Highlights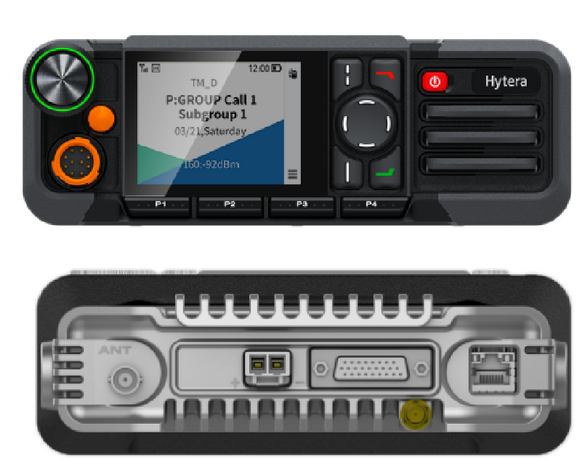 More intuitive and efficient
2.4-inch colour display ,simple Ul interaction,assists in operating quickly
Louder and clearer audio
Buil-in speaker and Al-based noise cancellation technology assures clear and loud voice even in noisy vehicles.
Easy Operation
Dedicated emergency button for instant emergency calls and ergonomic raised programmable buttons with piano key design for easy opetation.
Rich scalability
Ethernet port supports IP Transit solution to connect remote radio sites and extend coverage areas. Buil-in BT 5.0 allows wireless accessory adaptation and data transmission.
Flexible installation
HM789 supports single or dual remote control head and customized connection cable to satisfy different user requiremnets.
Durable and Rugged
IP54 compliant for water and dust ingress, and MIL-STD- 810 G for shock and humidity. Support fast cooling with all-aluminum case design.
Functions
LOUDER AND CLEARER AUDIO
Hytera provides industry-leading audio quality through a large forward-facing optimized speaker, and AI-based voice enhancement with deep learning ability that can accurately extract voice from noise in real time and decreases unwanted background noises as loud as 30db.
CLEAR AND BRIGHT DISPLAY
The HM789 features a 2.4-inch, display with up to 8 lines of content, new UI interactin and simplified menu allow you to complete operations more quickly and focus on driving.
HIGHER LEVEL OF RUGGEDNESS
The HM789 is fully compliant with the IP54 and MIL-STD- 810 G standards. It is dustproof, impervious to water jets, submersible to a depth of 2 meters for 4 hours, and can stand up to drop shock testing at 2 meters. The HM789 antimagnetic speaker does not attract magnetic metal dust and shavings.
DUAL -CONTROL HEAD
The HM789 supports multiple installation ways, including single unit, split installed, fixed installed, and the new dual control head installed, allowing installation in various environments such as vehicles, motorcycles, and fixed control rooms.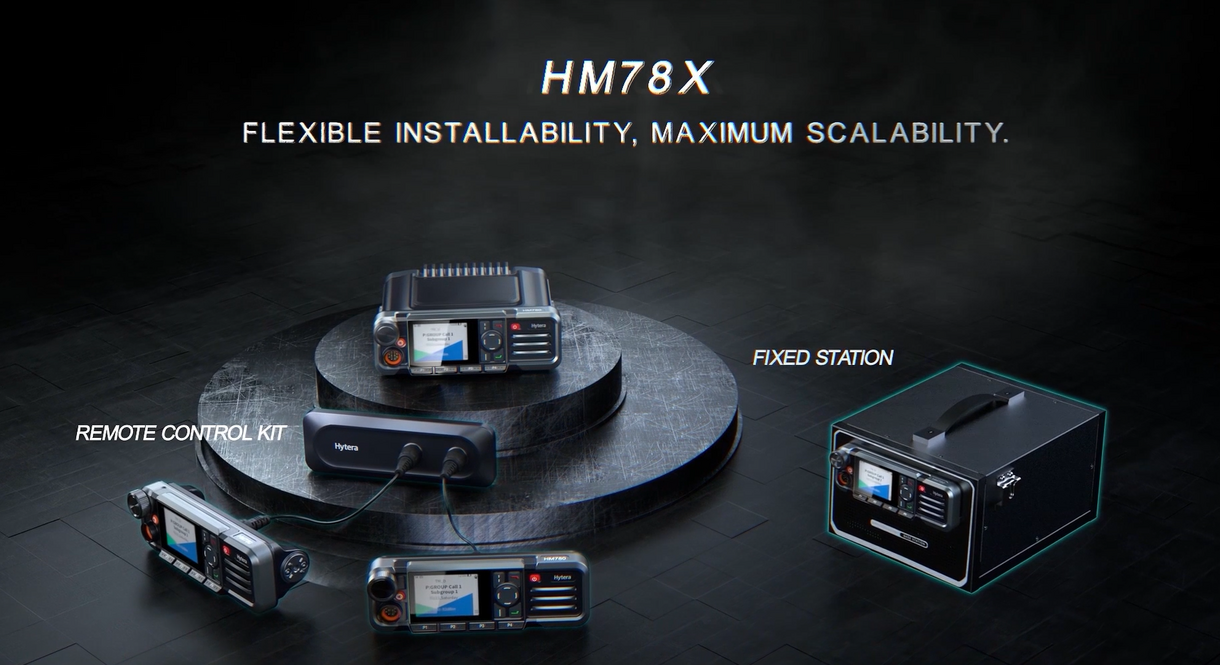 IP MULIT-SITE CONNECT
Multiple HM789 mobile radios can be connected to an Ethernet/IP network to provide a reliable and cost-effective method to connect remote radio sites and extend coverage areas. IP Transit can connect radio sites with analog or digital radios, and radios with different frequencies.
EXTENDED COVERAGE AND CONNECTIVITY
The HM789 extends radio range through increased Tx power efficiency, Rx sensitivity, improved antenna gain, and reduced attenuation. This produces a 25% increase in coverage distance and signal penetration through buildings. The enhanced coverage improves efficiency and reduces network infrastructure costs.
BUILT-IN BLUETOOTH
HM789 has a built-in BT5.0, allowing faster and farther BT connection to realize voice and data transmission.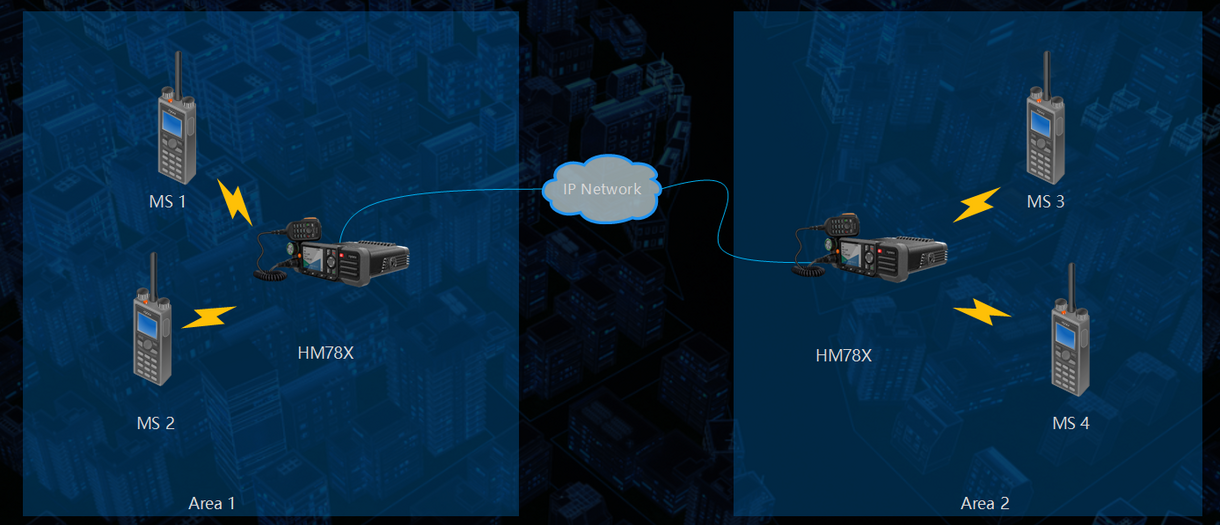 Audio
Programming
Cables
Installation
Charger & Power
Systems that work with HM789
Technical Specifications
General Specs
Frequency Range

UHF: 350-470MHz VHF: 136-174MHz

RF Output Power

Low power: UHF:1-25W,VHF:5-25W High power: UHF:1-45W,VHF:5-50W

Channel Capacity

1024(64 zones with 256 channels per zone)

Channel Spacing

12.5kHz / 20kHz / 25kHz

Digital Protocol

ETSI-TS102 361-1,-2,-3

Operating Voltage

13.6V± 15%

Dimensions (H x W x D)

61.5 x 177 x 179mm

Weight (with antenna and battery)

1520g

Display

2.4 inch LCD

Dedicated Emergency Button

Support

Bluetooth(Optional)

BT5.0BLE+EDR

GNSS(Optional)

GPS,GPS+GLONASS,GPS+BDS

Programmable Buttons

7

Dust & Water Intrusion

IP54

Receiver Sensitivity (Digital)

0.18 μV (5% BER)

Receiver Sensitivity (Analog)

0.18μV (12dB SIN AD) 0.16μV (Typical) (12dB SIN AD)
Key Features
Operation Mode

Analogue/DMR Conventional,IP multi-sites, XPT,DMR Simulcast, DMR Trunking(licensed)

Call type

Private Call, Group Call, All Call, Broadcast Call, Emergency Call, PSTN/PABX Call, Call Alert, Call Priority

Data Service

Text Message, Status Message, Quick Text Message

Safety

Emergency, Remote Monitor,Lone Worker, Stun/Revive, Authentication, Air Interface Encryption, End-to End Encryption,

Analog

Scramble,2 Tone, HDC1200,CTCSS/CDCSS