Hytera Hytalk Solution
Designed for professional communication demand of industrial users, Hytera HyTalk provides trunking voice and video communication, converged command and dispatching, high speed multimedia data transmission services based on commercial 3G/4G/WLAN network access.
The Hytera HyTalk communication solution delivers various services, including instant the voice and video call, unified dispatch, and multimedia data communication. Users can install the Hytera HyTalk client on smartphones, professional radios, multiple-mode advanced radios, or body worn cameras (BWCs) to access the Hytera HyTalk services through the public network (3G or 4G) or WLAN network to help communicate for mission critical anywhere.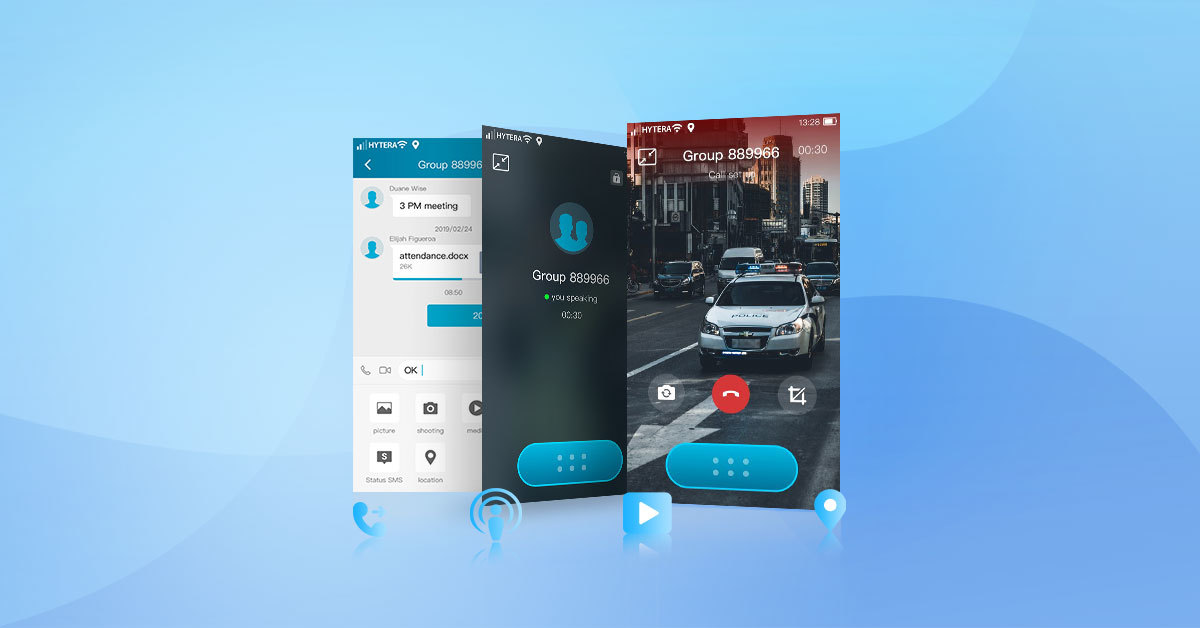 Benefits of Hytera Hytalk
User classification enables users of different levels perform their own duties, while users of the same level are independent of each other.
Each provisioning template with dedicated license setting, defining various combination of services to meet requirements from users.
Talk by pressing one button with nationwide coverage. Distance is not a problem anymore
Support real time voice and video PTT service with unified monitoring, global positioning, hierarchical recording, visual dispatching, redundancy and load sharing capability.
Management of terminals via MDM to reduce maintenance cost.
Support different scales of created users: Light: 4,000; Micro: 10,000; Small-size: 25,000; Medium-size: 50,000.
Support different scales of concurrent online users: Light: 2,000; Micro:5,000; Small-size: 10000; Medium-size: 20,000.
Versatile Hytera Hytalk functions
Multi-Level Operation Mode
With the multi-level operation mode, dealers and customers can be managed flexibly. Dealers at all tiers can create accounts for customers, while the customer can create accounts for individual subscribers or groups. The subscribers and groups managed by one customer are divided into an organization that is separate from another organization managed by another customer. Cross-organization services including the private call, message, and group call are not allowed. In addition, the Hytera HyTalk communication solution introduces the credit plans for the management between different levels of dealers and customers.
Flexible Credit Plan
The Hytera HyTalk communication solution provides flexible credit plans based on yearly or monthly consumption. The yearly plan gives an extra 50% discount. You can configure the unique credit plan in each subscriber creation template, hence forming different plan combos to meet different needs of various subscribers.
Rich and Reliable Services
Supporting load balancing and master-slave deployment, the Hytera HyTalk communication solution can provide various 24/7 services, including the voice and video call, monitoring, global positioning, audio and video recording, and visualized dispatch.
Remote Upgrade
With the Smart Mobile Device Management (MDM) system, you can manage and upgrade the software and hardware remotely, thereby reducing the management cost
All products related to Hytera Hytalk Solution
Not entirely sure what you need?