Hytera Hytalk Pro Solution
Hytera HyTalk Pro is a new multi-media integration solution proposed by Hytera, which supports different types of services such as voice, video and data. Hytera HyTalk Pro supports a variety of wireless access mode (such as public network 3G/4G, Wi-Fi, Broadband Private network, etc.).
Designed for users in sectors including public safety, energy, and transportation, the P-PoC6000 delivers rich voice, video, and data services, and provides functions including mobility management, call control, resource allocation, and database management. VoIP(Voice over Internet Protocol) technology is used to provide Trunking services, which can quickly realize "one-to-one" and "one-to-many" voice services. Users can either install Hytera HyTalk Pro client software on android phones, professional broadband terminals and dual-mode terminals.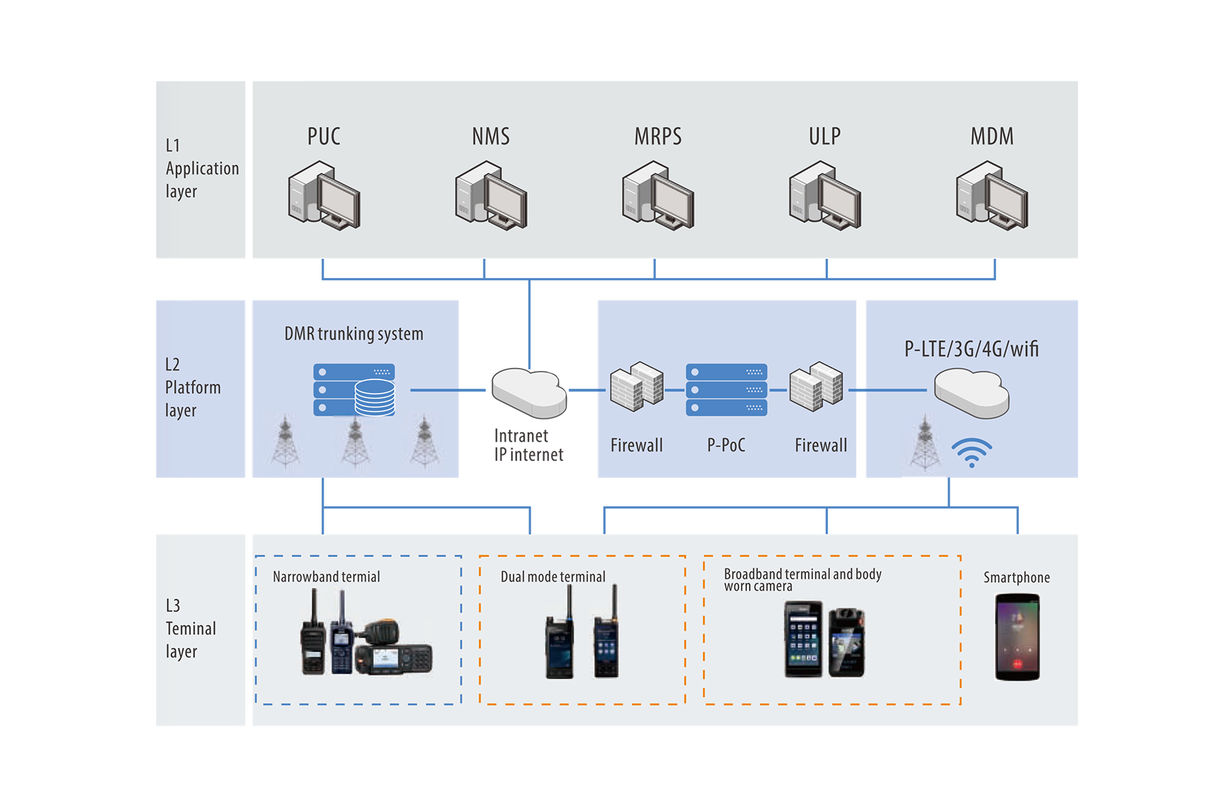 Benefits of Hytera Hytalk Pro
No matter whether the multi-mode radio registers with DMR or P-POC network, it uses the same ID number, which make it much easier for configuration and management.
Professional security solutions like database encryption, authentication, App unified control, various voice stream encryption ensures every call never to be eavesdropped.
Mixed grouping of Hytera HyTalk Pro users and Radio users, group call can be launched both of Hytera HyTalk Pro and PMR network.
Support different scales of created users: Micro: 10,000; Small-size: 25,000; Medium-size: 50,000.
Support different scales of concurrent online users: Micro: 5,000; Small-size: 10,000; Medium-size: 20,000.
System Redundancy ensure service always online even though the master server malfunctions.
After LTE user implementing the real-time photo and video uploading service, the radio shall upload the multimedia data to the specified dispatch platform automatically
Versatile Hytera Hytalk functions
Real-time Photo and Video Upload
After the broadband user captures a photo or video by one-touch, the BWC sends the captured photo or video to the preset dispatcher upon confirmation. The BWC automatically feeds live video to the dispatcher once the Emergency key is pressed.
Built-in NAT
The P-PoC6000 realizes IP mapping from the public network to the private network without using the SBC, saving customer's investment.
Heartbeat Mechanism
The heartbeat mechanism between the radio and the system allows the system to obtain radio online status in real-time.
Hard Key Correlation
You can correlate the hard PTT button and Top Key (TK) button on the device with the soft PTT button and soft TK button in the MPTT application, so that they can be used interchangeably to enhance ease of operation.
All products related to Hytera Hytalk Pro Solution
Not entirely sure what you need?