Hytera MCS Solution
Hytera MCS, a new-generation solution based on 3GPP standards, realizes the fusion of narrowband and broadband. It is designed to deliver clear and reliable trunking voice/video, high-speed data transfer, multimedia dispatch for industry users in sectors including public safety, utilities, transportation and energy
With High integrated end-to-end design, Hytera MCS solution enables mission-critical voice, video and data over both public and private networks, and provides mobility management, call control, resource allocation, and database management. With Mission Critical Client (MCC) installed on the multi-mode advanced radio or LTE terminal, users can access the mission critical services (MCS) through public LTE network of operator, or private LTE connectivity under a whole-angel security solution to ensure extremely high communication privacy.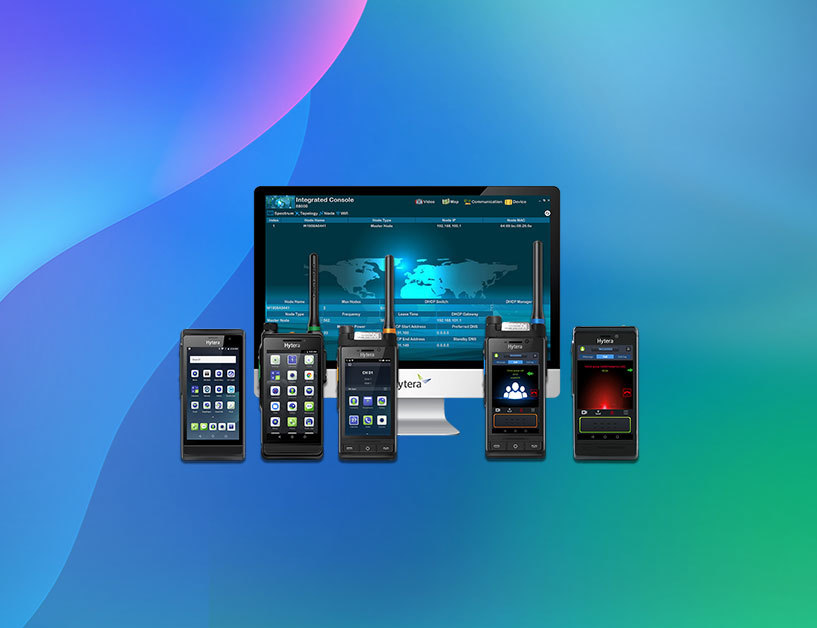 Benefits of Hytera MCS
Fully comply with 3GPP R15 specifications to support standard MCPTT、MCVideo、MCData
Engaged with various professional security technology,
Support local/geographic redundancy, Carrier-grade High Reliability ensures MCS system keeping online.
Interoperable of muti-network, provides an all-around and unified communication experience and provide a smooth migration from PMR to LTE.
QoS guarantees MCS services with highest priority and reduced latency.
Support maximum created users of 1,000,000.
Support maximum online users of 200,000.
Support maximum created groups of 100,000
Diverse functions of Hytera MCS
Unified Command and Control
Connecting various networks, Hytera provide an integrated command and control center solution to make complicated to simple but everything under control including various unified applications such as unified network management system, unified dispatch system, multimedia recording and playback system and mobile device management system.
Various Security Solution
Adopts SHA256-based access authorization, AES 256 end-to-end encryption, SIM card bounding and special account for special terminal. When a terminal tries to register to MCS, system will automatically check the list from database to do the authentication. The user's MCC account is uniquely bound to the SIM card number, so that the user can only sign in the MCC on UE in which the SIM card is mounted.
Multi-level Realiability
Isolated E-UTRAN Operation improves system stability by allowing BS to continue to provide MCS services when its link to the core network is down. Local & geographic redundancy Ensures MCS service continuity even though devices meet failure or catastrophic event.
Multiple Deployment
Hytera MCS support multiple deployment solution including MVNO and Dedicated to help customer smoothly migrate from conventional PMR to Evolved convergent network, we can reuse the existing public network for transmission or build a dedicated private LTE network.
Introducing MCS Hytera HyTalk MC Solution
Hytera is able to provide end-to-end MCS solution, together with Mission Critical Service Platform and Mission Critical Service Terminal.
All products related to Hytera MCS Solution
Not entirely sure what you need?