Functions
Modularized design, easy for maintenance
Flexible monitoring (GSM, ethernet or serial port), convenient for maintenance and management.
SDR (Software Definition Radio) technology, filtering irrelative and ensuring stable output power & clean spectrum output.
Function of Channel Switch. With this functions, the channel will automatically be shut down if there is no call in the coverage, which can strongly reduce the impact of base stations.
Dustproof, moistureproof & waterproof, with low requirements on installation environment;
With high-linearity power amplifier and high-rejection duplexer, capable of rejecting intermodulation and spurious signals;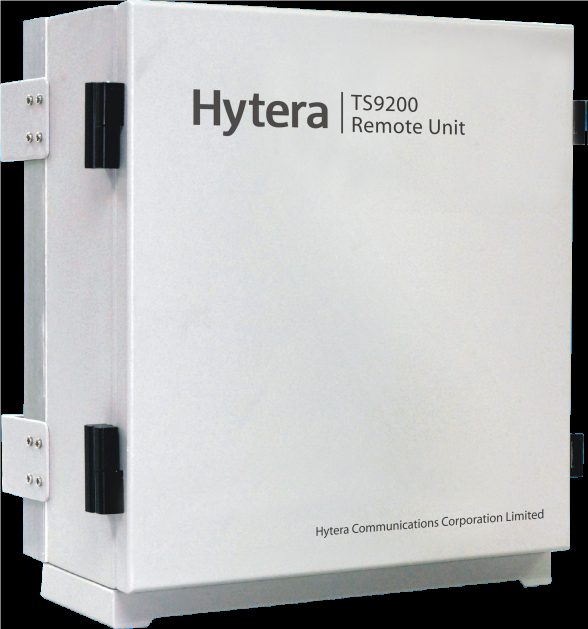 Systems that work with TS-9200
Technical Specifications
Integrated RF BDA
Frequency Range

VHF/ 330-470MHz/800MHz

Amplifier Type

Band-selective / Channel-selective(8 channels)

Protection

Ip65

Weight

25kg

Dimension (W*H*L)

357mm×217mm×453mm

Power Supply

Standard:AC220V±20%,50±5HzOptional: DC-40~-55

Connector Type

N-connector (female)

Environment Humidity

≤ 95% RH

Operating Temperature

-25℃~+55℃

Input\Output Impedance

50Ω

Signal Delay

≤ 12us (Channel-selective) ≤ 6us (Band-selective)

Power Consumption

≤ 230W

Downlink Gain

95±3dB(Channel-selective) 90±3dB(Band-selective)

Downlink Max Input Level

≤-10dBm

Downlink Max Output Power

40dBm( UHF/800M) 37dBm(VHF)

Uplink Gain

95±3dB(Channel-selective) 90±3dB(Band-selective)

Uplink Max Input Level

≤-10dBm

Uplink Max Output Power

33dBm( UHF/800M) 30dBm (VHF)
Analog Fiber Optical BDA(Coupling by air) Frequency Range
Frequency Range

VHF/ 350-470MHz/800MHz

Amplifier Type

Band-selective / Channel-selective(8 channels)

Protection

Master Unit:IP40, Slave Unit:IP65

Weight

Master Unit≤25kg Slave Unit≤25kg

Dimension (W*H*L)

400*200*530mm

Power Supply

Standard:AC220V±20%, 50±5Hz,Optional: DC-40~-55V

Connector Type

N-connector (female)

Monitoring Mode

Standard Interface:RS232 Optional: GSM/Ethernet

Environment Humidity

≤ 95% RH

Operating Temperature

-25℃ ~+55℃

Input\Output Impedance

50Ω

Noise Factor

≤5dB

Signal Delay

≤18us (Channel-selective) ≤ 6us (Band-selective)

Power Consumption

Master Unit≤90W, Slave Unit≤130W

Downlink Gain

95±3dB(Channel-selective) 90±3dB(Band-selective)

Downlink Max Input Level

≤-10dBm

Downlink Max Output Power

37dBm

Uplink Gain

90±3dB(Channel-selective) 85±3dB(Band-selective)

Uplink Max Input Level

≤-10dBm

Uplink Max Output Power

30dBm
Analog Fiber Optical BDA(Coupling directly)
Frequency Range

350-470MHz/800MHz

Amplifier Type

Band-selective

Protection

Master Unit:IP40, Slave Unit:IP55

Weight

Master Unit≤8kg Slave Unit≤25kg

Dimension (W*H*L)

Master Unit:310*133*483mm Slave Unit:400*200*530mm

Power Supply

Standard:AC220V±20%, 50±5Hz, Optional: DC-40 ~-55V

Connector Type

N-connector (female)

Monitoring Mode

Standard Interface:RS232 Optional: GSM/Ethernet

Environment Humidity

≤ 95% RH

Operating Temperature

-25℃~+55℃

Input\Output Impedance

50Ω

Noise Factor

≤5dB

Signal Delay

≤ 18us (Channel-selective) ≤ 6us (Band-selective)

Power Consumption

Master Unit≤20W, Slave Unit≤130W

Downlink Gain

55±3dB

Downlink Max Input Level

≤10dBm

Downlink Max Output Power

37dBm

Uplink Gain

50±3dB

Uplink Max Input Level

≤-10dBm

Uplink Max Output Power

-10dBm
Digital Fiber Optical BDA(Coupling by air)
Frequency Range

350-470MHz/800MHz

Amplifier Type

16 or 24 Channels selective

Protection

Master Unit:IP40 ,Slave Unit:IP55

Weight

Master Unit≤25kg, Slave Unit≤25kg

Dimension (W*H*L)

400*200*530mm

Power Supply

Standard:AC220V±20%, 50±5Hz, Optional: DC-40~-55V

Connector Type

N-connector (female)

Network

Star, chain type, ring type

Monitoring Mode

Standard Interface:RS232 Optional: GSM/Ethernet

Environment Humidity

≤ 95% RH

Operating Temperature

-25℃~+ 55℃

Input\Output Impedance

50Ω

Noise Factor

≤5dB

Signal Delay

≤ 18us;Provide automatic and manual delay compensation function

Power Consumption

Master Unit≤90W, Slave Unit≤130W

Downlink Gain

95±3dB(Channel-selective)

Downlink Max Input Level

≤-10dBm

Downlink Max Output Power

37dBm

Uplink Gain

90±3dB(Channel-selective)

Uplink Max Input Level

≤-10dBm

Uplink Max Output Power

30dBm
Digital Fiber Optical BDA(Coupling directly)
Frequency Range

350-470MHz

Amplifier Type

16 Channels selective

Protection

Master Unit:IP40, Slave Unit:IP55

Weight

Master Unit≤8kg, Slave Unit≤25kg

Dimension (W*H*L)

Master Unit:310*133*483mm Slave Unit:400*200*530mm

Power Supply

Standard:AC220V±20%, 50±5Hz, Optional: DC-40~-55V

Connector Type

N-connector (female)

Networking

Star, chain type, ring type

Monitoring Mode

Standard Interface:RS232 Optional: GSM/Ethernet

Environment Humidity

≤ 95% RH

Operating Temperature

Master Unit: -10℃~+ 50℃ Slave Unit: -25℃~+55℃

Input\Output Impedance

50Ω

Noise Factor

≤5dB

Signal Delay

≤ 18us;Provide automatic and manual delay compensation function

Power Consumption

Master Unit≤90W, Slave Unit≤130W

Downlink Gain

50dB(Channel-selective)

Downlink Max Input Level

≤-10dBm

Downlink Max Output Power

37dBm

Uplink Gain

50dB(Channel-selective)

Uplink Max Input Level

≤-10dBm

Uplink Max Output Power

-10dBm