Background
Jeddah is the second largest city (after Riyadh) in Kingdom of Saudi Arabia located in the middle of the eastern coast of the red sea, the largest sea port on the Red Sea, and is considered the economic and tourism capital of the country.
In the past, three companies were entrusted with the cleaning of the whole city and were struggling hard to clean the huge volume of waste produced. The volume of garbage produced in the city is continuously growing because its population is growing fast and translating into an increase in the number of streets and districts in the city. The city's rapid growth is a challenge to the municipality to keep the city environmentally clean and safe.
Jeddah municipality decided on outsourcing its cleaning and other facilities management (FM) based requirements to local companies. The Municipality awarded five FM based companies with nine individual contracts to maintain cleanliness of identified sectors in the city. Under the terms of these contracts, the five companies are assigned particular zones to maintain cleanliness of the city while one company is tasked to monitor and report the progress to the municipality.
Challenges
One major challenge arising from this arrangement was the use of analog-based radio communications between the municipality and the five companies. The old radio system posed problems like limited coverage, poor voice quality, channel jam, limited data service and the lack of dispatching functions.

Solutions
The Jeddah Municipality decided on making the shift from an analog-based system to a more modern digital radio solution.
Hytera, through its local distributor Electrical and Electronic Contracting Co. Ltd. (EECC) presented the Municipality with a state-of-the-art DMR Trunking Systems solution. DMR Trunking is Hytera's radio solution that has been developed in compliance with the ETSI standard, Digital Mobile Radio (DMR). The solution offers sophisticated voice transmission and clearer dispatcher communication. DMR Trunking is powered by IP-based system architecture and centralized networking system, which makes it particularly suited for utility companies, operation centres or industrial enterprises.
Committing to support the Municipality's efforts towards sustainability, the company implemented a package that included the installation of four Base Stations with 10 carriers to cover the whole Jeddah city; more than 500 pieces of mobile radios for dispatched vehicles of the six companies and ultra-thin fully-featured X1p covert radio provided to the management.

Benefits
The digital voice is crystal clear reaching far even out of Jeddah city. Each frequency has two-time slots which are dynamically allocated and greatly improve the channel efficiency thus saving the cost for the frequency license which is quite expensive in KSA. The system has versatile data service like message, GPS, AVL and voice recording, etc. The dispatcher can know exactly where the car/staff is located & moving by using the GPS and AVL function thus accomplishing visualized dispatching. And all the voice communication in the system is recorded and can be played back for historical check and truth recovery.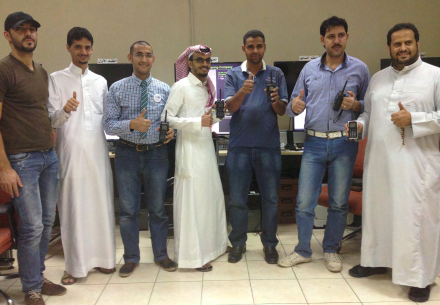 Voice from Customer
"We are very pleased with the positive results gained from using Hytera DMR Trunking solution. We are happy with the system as it has provided us with good, seamless, safe & reliable communications, which has greatly improved working productivity and efficiency"—— Jeddah Municipality