Background
Prince Mohammad bin Abdulaziz International Airport (IATA: MED) is the gateway to Madina, the second holiest city in Islam after Mecca.
It is the fourth biggest and busiest airport in Saudi Arabia, handling 5,831,163 passengers in 2015, including 802,592 Hajj charter and 2,145,272 Umrah charter passengers.
The new airport was inaugurated on 2nd July, 2015. The $1.2 billion expansion plan consists of a three-floor terminal covering over 156,940 square meters with 16 aircraft stands and boarding bridges. It received the first Leadership in Energy and Environmental Design (LEED) Gold certificate in the MENA region.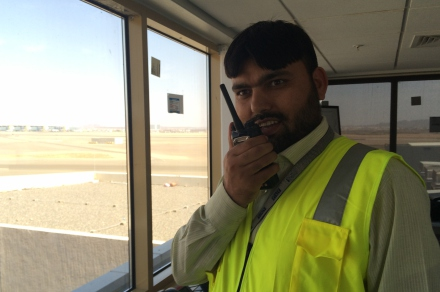 Challenge
Soon after the new airport in operation, TIBAH Airports Development Co.(The operator of the airport, TAV for short) found their daily performance and working efficiency dragged by the Bravo Push-to- Talk system (using outdated iDen technology) which suffered from unstable performance of the flimsy terminals, poor coverage inside the terminal, a lack of voice recording, absence of aftersales
services, etc. Thus an independent, reliable and professional mobile radio system was immediately required.
Solution & Benefit
After strict evaluation and test, a state-of-the art Hytera DMR trunking lite system with 150 pieces of terminals were chosen to replace the existing iDen terminals. Besides crystal clear digital voice, the system has versatile data service like message, GPS, AVL and voice recording, etc. The dispatcher can identify exactly where the staff is located & moving by using the GPS and AVL function thus accomplished visualized dispatching. All the voice communication in the system is recorded and can be played back for historical check and truth recovery. The Hytera terminals are rigid and reliable, complying with IP67 (fully water and dust proof) and American Military Standard. BDA (Biodirectional amplifier) was installed at the basement for signal enhancement. PSTN gateway makes it easier for the management in the office to communicate with staff onsite.
Besides the good quality of the products, Hytera staff also showed professionalism during the installation and implementation of the system which has won the recognition of the customer. TAV are very happy with the system as it has provided 24 X 7 good, seamless, safe & reliable communication and greatly improved their working efficiency. An expansion is expected to meet the needs of the growing passengers at the airport.